Day 1
Arrived at Sandakan Airport and transfer to Sepilok
Arrived at Sepilok. Visit Sun Bear Conservation Centre.
The Borneo Sun Bear Conservation Centre (BSBCC) is the world's only sanctuary exclusively dedicated to the rescue and rehabilitation to the Sunbear. Bornean Sun Bear are the smallest among the bear species in the world. Bornean Sun Bear Conservation Centre (BSBCC) is located at Sepilok, Sandakan City, Sabah state, where 65 rescued ex-captive Sun Bear are Residing now.
Lunch
Continue at Sepilok Orang Utan Rehabilitation centre.*Camera fee of Rm 10 (approximately £2) Should you wish to take your camera to the feedings with you. Please note that camera's with over 60mm lens will incur a fee Rm1000 (approximately £180) – All camera fee at own cost *
Sepilok is a primary lowland forest; a fine showcase of Borneo's remaining rainforest. The highlight is witnessing the feeding of Orang-Utans (at 1000hrs – Morning session or 1500hrs – Evening session) from a platform in the center of their forest enclosure.
A scheduled documentary video about 25 minutes is a great overview of the Orang-Utan.
Proceed to RDC (Rainforest Discovery Centre)
The RDC's main attractions are its 363m long canopy walkway, exhibition halls, the Plant Discovery Garden, the Kabili-Sepilok Forest Reserve, environmental education programmes, and a small lake with a suspension bridge. RDC also offers visitors an opportunity to be close to nature. The best way to take in the majority of the rainforest panorama is to go on a night walk. The majority of people would find it exciting to witness the Red Giant Flying Squirrel emerge around sunset.
Late check in at Sandakan Hotel
Dinner at the hotel restaurant
Day 2

Breakfast at hotel
Check out, proceed for 1-hour city tour. Visit Sandakan Muzium and St micheal Church..
Transfer to Labuk Bay (platform B 1130hrs feeding time)
Labuk bay currently houses one of the largest isolated populations of the proboscis monkeys on the Borneo Island. A home of around 150 free ranging proboscis monkeys, along with other wildlife such us. silver leaf langur, wild macaque, oriental pied hornbill.
This privately run sanctuary has two observation platform (feeding time):
1. Platform A – 9:30 am and 2:30 pm.
2. Platform B – 11:30 am and 4:40 pm.
The monkeys are given by the staff additional supplements such as: beans, cucumber, and pancakes.
After feeding activities, they usually hang around and don't miss the opportunities to take photos. The monkeys at the sanctuary are wild and free to roam around, highly habituated and often get close to the visitors.
Lunch at the nearby local restaurant
Proceed the journey to Sukau kinabatangan River for about 2hrs drive.
Welcome to Sukau Bed & Breakfast! Get a briefing of the activities during your stay with us and checked in to your room.
Check in at Green View Bed & Breakfast
Cruise the afternoon in Sabah's longest river and one of the most bio-diverse areas in the world, The Kinabatangan River. Watch wildlife abounded along the banks and visit one of its famous tributaries for more wildlife. (2 hours cruise) River cruise activities is base on Boat Sharing.
Back to hotel
Enjoy dinner at the riverside restaurant.
After dinner, night cruise commence.
Night cruise dedicated for nocturnal wildlife such as kingfishers, Buffy fish owls, wild cat, snakes, frogs, and others. Maybe you can spot the flaring eyes of a crocodile while having its night swim. (1 hour boat Sharing cruise)
Day 3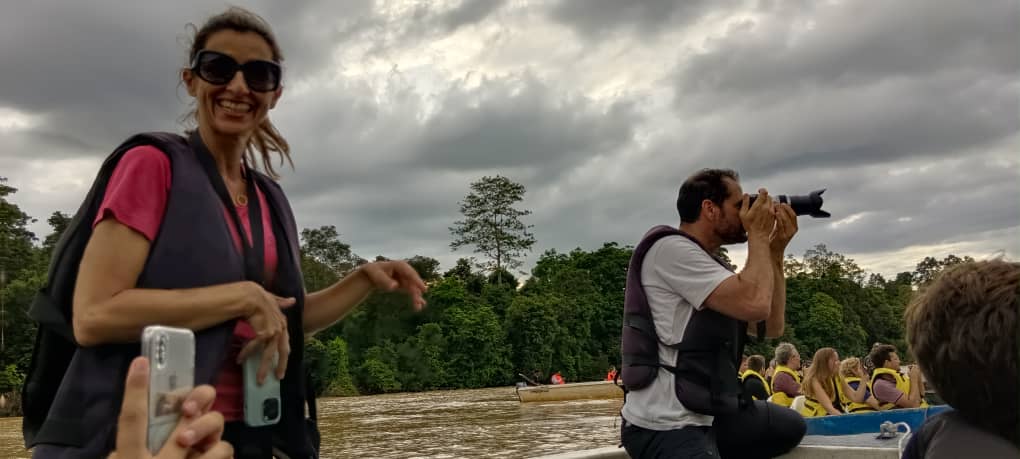 "Wake up call"
Cruise among the fogs and feel the cool morning breeze. Hear the songs of the birds, watch proboscis monkeys, macaques and other wildlife. (1.40 to 2 hrs on boat sharing cruise)
Breakfast. After breakfast free at own leisure.
Explore the jungle and see different plants and unique trees. Have a significant encounter with wildlife. (1 hr trekking)
Relax at the restaurant and enjoy your lunch.
Ride the boat for a 2nd afternoon cruise to different destinations where wildlife can be satisfying. Enjoy a fantastic sunset and the riverine sceneries before cruising back to the B&B. (2 hrs boat sharing cruise)
Return to your B&B
Dinner
Night walk is available upon request (Optional – Add on: RM60.00 per person).
Day 4

After breakfast, load your luggage and depart to Kinabalu Park/Poring hotspring for about 4-5 hours drive
Lunch at Sabah Tea Garden Restaurant
Enjoy the sprawling tea plantation surrounded by pristine rainforest in the cool mountain. The Sabah Tea Garden beckons you to indulge in its beautiful surrounding away from hustle and bustle of the city life. The only organic tea farm in Borneo Island and one of the few in the world
After lunch, transfer to Moroli River for fish message
A fish massage sounds odds but it's unique to experience you might not curious to try. Tagal means no fishing
Transfer to Poring Hotspring
Poring is a Kadazan Dusun words for Giant Bamboo species growing abundantly in the area, and one of the best examples of the lowland rainforest on the west coast. Explore the forest on your way to the canopy walkway through a 500m track to the starting suspension bridge that connects from tree to tree at the length of 157m and 41m high from the ground. Test your balancing skills while enjoying a bird-eye view of the forest as you scroll along the walkway. Or you maybe take a dip into an open-air Japanese style bathtub, where believes has a curative.
*Visit World Largest flower in the world Rafflesia can found in the area, any blooming (Entrance fee at own cost)..
Enrouth down to Kota Kinabalu
ETA Kota Kinabalu
Check into your hotel
Sandakan tour call off!!!!
Day 5

Transfer to Mari-Mari Cultural Village for about 30 minutes' drive Mari-Mari Cultutral Village Tour commence
Guest will be pick-up from their respective location and proceed to Inanam Village, 30 minutes away from Kota Kinabalu City. The beauty of untapped nature is guaranteed to capture your eyes and heart as soon as you arrived at the village!
In the village, you will be introduced to various traditional homes of Sabah ethnic communities – The Bajau, Lundayeh, Murut and Dusun – which are built by descendants of the tribes which they represent. Your friendly excursion guide will also go through the introductions of the houses, making it a highly educational experience.
Be prepared to teleport back to the times of ancient Borneo through the display of unique ingenious architecture, simulated lives and ritualistic ceremonies. Also, get acquainted with each village tribe as you enter their homes and experience their rich culture.
For a more hands-on experiences, check out the little huts in the village where daily routines of traditional Sabahan life comes alive. Grab the chance to see Blowpipe-making demonstration, fire-starting demonstration using bamboo, tattoo-making demonstration and get an in-depth look at the mystical symbolisms behind them. Visitors will also get the chance to sample Sabahan traditional delicacies from each ethnic
After a fun and educational tour, guest will return to their respective location.
Duration: 10:00 – 12:00 noon
Lunch is served (local delicacies serving)
After lunch drive back to your hotel.
Meet at the hotel lobby and transfer to Sutra Jetty for you North Borneo Sunset Dinner Cruise
Duration: 1730hrs – 1930hrs
Day 6
Free at own laisure.. Options: 2hrs city tour. Visit City Mosque of kota kinabalu, the Chinese temple, view the Tun Mustapha building, Observation Centre, handcraft and market..
Day 7
Free at own laisure..
Airport transfer